Tokyo Magnitude 8.0 Downloads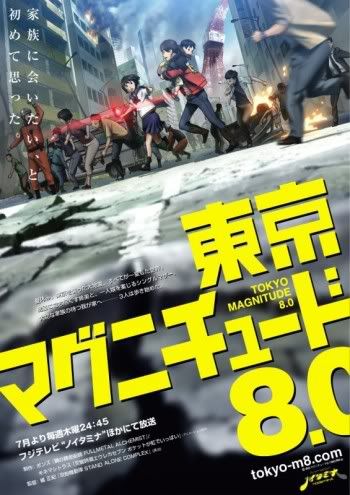 Title : Tokyo Magnitude 8.0
Japanese Title : ?????????8.0
Official Site : http://www.tokyo-m8.com/
Category : TV
Total Episodes : -
Genres : Drama
Year Published : 2009
Release Date : 2009-07-00
Broadcaster : -
Studio : -
US Distribution : -
The premise of the story is the 70% or higher possibility that a magnitude 7.0 earthquake will occur in Tokyo in the next 30 years. The story depicts what would happen if a 8.0 earthquake tooks place.
The story will center on Mirai, a middle school freshman girl who goes to Tokyo's artificial Odaiba Island for a robot exhibition with her brother Yutaka at the start of summer vacation. A powerful tremor emanates from an ocean trench, the famed Tokyo Tower and Rainbow Bridge crumble and fall, and the landscape of Tokyo changes in an instant. With the help of a motorcycle delivery woman named Mari who they meet on Odaiba, Mirai and Yutaka strive to head back to their Setagaya home in western Tokyo.
Episode 01 : Megaupload
Episode 02 : Megaupload
Episode 03 : Megaupload
Episode 04 : Megaupload
Episode 05 : Megaupload
Episode 06 : Megaupload
Episode 07 : Megaupload
Episode 08 : Megaupload
–==–
=================
Size : ~55 mb
Codec : x264
Bitrate : 275
=================
LQ for those who dont have good speed connection for download. If you have problem playing our video, please post it at forum. Our main link is Megaupload so we dont reupload for mirror's link.
Episode 01 : Mediafire | Megaupload
Episode 02 : Mediafire | Megaupload
Episode 03 : Mediafire | Megaupload
Episode 04 : Mediafire | Megaupload
Episode 05 : Mediafire | Megaupload
Episode 06 : Mediafire | Megaupload
Episode 07 : Mediafire | Megaupload
Episode 08 : Mediafire | Megaupload
Added: August 31, 2009
More Episodes of
Uncategorized
Last Updated on August 31, 2009